Speed adventure 2 in 1
Information
Overview:
Parasailing 15 minutes + jet ski 15 minutes
Information
Position:
Address:
Tel. No.:
Overview:
Parasailing 15 minutes + jet ski 15 minutes
Overview
●Parasailing 15 minutes
Put the parachute on your back, let the speedboat drag you forward and slowly fly you up into the sky. Watch the beautiful coastline of Boracay. Imagine yourself a flying a kite in the sky.
2 to 3 people riding together
The Parasailing is capable to carry 2 or 3 people at the same time.
●Jet ski 15 minutes
Fast and furious on the sea!
Especially for the water-sport-lovers. Ride a jet ski and take an exciting ride on the sea!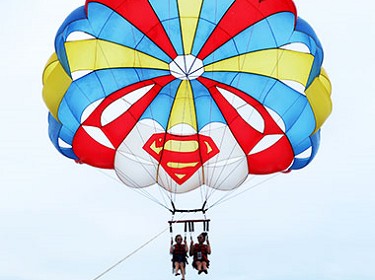 Parasailing
From the sky, you can enjoy a bird's eye view of the spectacular view of Boracay.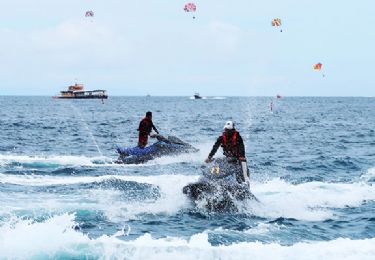 Jet Ski - 15 minutes
Please wear a life jacket and keep away from the people who do activities on the sea.
How to Use
1. Be sure to bring your purchase voucher. (hard copy or soft copy is fine)
The local staff will contact you 2 days before your reservation, to inform you their contact number, meeting time and location of that day. Also, they will confirm your booking content, attendance, and reservation time.
2. Be sure to be at the meeting location on time and check your purchase voucher with our local staff.
3. The local staff will lead you to the locations of your reservation.
Price Details
Fee Included:
l Round trip transfer and transportation fee for the venue.
l All related expenses for the above activities.
l Service tips for the our local staff
Fee Not Included:
l
How to Book
l Please read the itinerary and related precautions carefully.
l Select the date and attendance you want to make a reservation.
l Provide complete information of all attendance (full names shown on your passports) and contact information of the register person (email address + phone number or communication software)
l Complete the registration form.
l We will send you purchase voucher within 3 working days. The voucher will have the complete contact information of the local company.
Important Information
l Be sure to provide the name of your staying hotel in English.
The order of activities may be adjusted according to local conditions. If you cannot accept the above regulations and arrangement, kindly ask you not to purchase this package.
l Customers who did not show up on time at meeting location as a result in delaying or unable to complete the itinerary will not be refunded.
l Failure to execute contract itinerary due to force majeure can be rescheduled or cancelled (refundable).
l Purchase voucher will send to your email address within 3 working days. Be sure to keep it for verification in the future.
Cancellation Policy
1. Please apply for cancellation 3 days
(included) before the reservation date.
2. Cancellation within 2 days will be charged 100% of the fee.
3. Reschedule can be arranged 3 days before the reservation date. Please apply in advance.